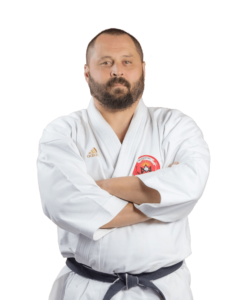 Karate  – Black belt 4th dan
World Karate Judge
European Karate Referee
JKD, Krav Maga and Kick Box Instructor
BJJ – Blue belt
Rade Stefanovski comes from Macedonia. He finished police high school and undergraduate criminologist studies at University Ss. Kliment Ohridski, Faculty of Security in Skopje. Currently, he is enrolled in undergraduate studies at the University of Ss. Cyril and Methodius,  Faculty for physical education, sport, and health. He was working in the Unit for special tasks of the Ministry of Interior Affairs until 2010. Today, he holds the Unit Chief position in the Police department in the Republic of Macedonia.
He started training karate in 1988, his competition career began in 1991, he was a Macedonian national karate member for six years competing in kata and kumite. In addition to karate from 1995, he started training: Boxing, Judo, Wrestling, and Kickboxing. Currently, he holds a 4th-degree black belt in Karate, a black belt in Judo and Kickboxing, blue belt in Brazilian Jiu-Jitsu. Rade is also a certified Jeet Kune Do instructor and Krav Maga instructor. He is a World Karate Federation referee (WKF-the only international karate organization recognized by the International Olympic Committee) in addition to a European Karate Federation referee, which is the highest karate license in Europe for judging kata and kumite.
Rade was the latest addition to our MMA team. He is a founder and head instructor of the BUDO Martial Arts Center in Veles, Republic of Macedonia, which was founded in 2005. This modern martial art sports center has 11,800 Sq. ft and offers the following programs: Karate, BJJ, JKD, Kickboxing, Boxing, CrossFit, Tae Bo, Insanity, Pilates, Aerobic, and Fitness. Some of these programs are also available online to our MMA's members where he is a head coach.